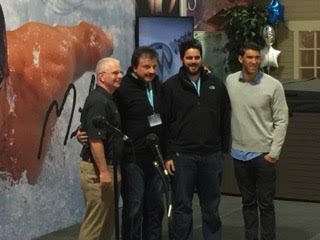 ABOUT US
MasterSpasUSA is a Proud Provider of Aquatic Products Throughout the Greater Cleveland Ohio Area!
MasterSpasUSA Pools and Spas provides our customers with products and services regarding swimming pools, swim spas, hot tubs, suanas and more! Our expertise includes above ground swimming pools, in ground swimming pools, on ground pools, swimming pool accessories and chemicals.
Equally as important is that we are able and willing to provide information and answers to questions about swimming pools, hot tubs and spas that help consumers make good decisions. We specialize in swim spas and are the exclusive distributor of the Michael Phelps Swim Spa Signature Series by Master Spas®.
Most importantly, we provide value, by bringing products directly from their source to the end user, our customers. Twenty five years of experience in the swimming pool and hot tub industry provides the basis for what we do. Our pool and hot tub vendors provide great products and we are staffed with people who are the best in the pool and spa industry … by industry standards, not our own.
We are also directly affiliated with swimming pool and hot tub groups that help us complete our task at hand, but are specifically tied to National Pool Spa Brokers and National Pool and Spa Show.
Please contact us today, if you have any questions. We look forward to hearing from you! You can reach us direct at (440) 623-7554.